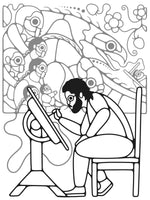 The Artist
"Sometimes things just kinda pop up in my head and I'm like, oh - that'd make a cool art piece."
- Tsista Kennedy, CBC Interview
Born in the fall of 2001, Tsista Kennedy is an Anishinaabe Onyota'a:aka artist from Southern Ontario. He is a self taught artist, and often creates his work digitally. Tsista also creates original art pieces with ink on watercolor and sketchbook paper.
Kennedy's love for creating art began in his early childhood, where his school teachers would often find more doodles on his classwork than answers and equations. At the age of 14, Tsista created his first woodland-style piece. From that moment on, Tsista Kennedy worked exclusively in this style of art; developing a variation of the style over the years that was unique to himself.
Tsista's variation of woodland style can be recognized by semi-bold black lines, intricate patterns, and vibrant colors; all of which work together to make the artwork flow elegantly across the canvas. Because of his ability to convey stories and messages through his artwork, Tsista Kennedy has been commissioned by countless organizations, universities, and businesses to have their visions portrayed through his art.
Tsista Kennedy's artwork isn't solely rooted in indigenous traditionalism, nor is it solely focused on indigenous modernism, it's a merging of the two. With his personal experiences and stories thrown into the mix, combining these two perspectives provides the inspiration behind some of Tsista Kennedy's artwork today. Being a frequent daydreamer however, many of his best art pieces simply begin as an image popping up in his head.